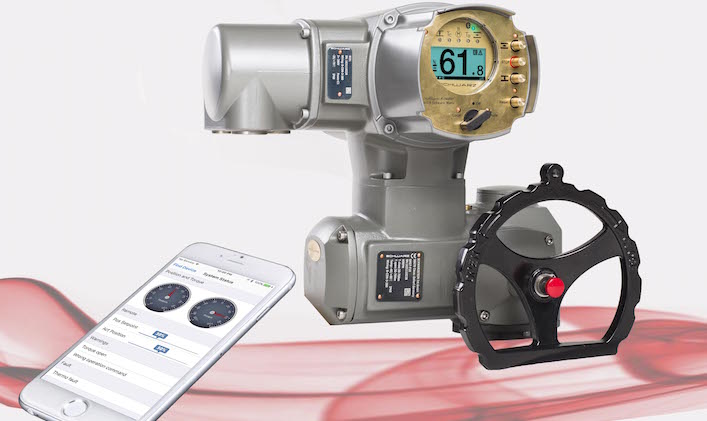 Next Generation Intelligent Actuator
SWZ redefines intelligent actuators with a slogan, "New Motion Starts Here". As we enter the 21st century where computer, communication and the internet have made unprecedented progress and changed our life, SWZ is blending in, or making, the trend by applying and developing the most cutting-edge technologies to make intelligent actuators of the new era.
Stable Bluetooth communication has overcome the disadvantages of infrared ray communication. There is no distance or direction limit for Bluetooth. Bluetooth has also made it very convenient to connect the actuator with a computer.
IPhones, on which remote control apps are installed, are highly accessible and stable. Users can download the SWZ app in App Store. The Schwarz app can be used to make any adjustments to the actuator, and manage assets.
Attention: Password is needed for Bluetooth control, in case of phones being stolen and wrong users. Different passwords have different ways to use, as indicated in the manual of SWZ actuators.
Multiple languages are available. German, English and Chinese are included in the default version. SWZ actuators are compatible with over forty other languages, which need to be installed specifically on demand
SWZ actuators can be upgraded on spot, by inserting an SD card. Newer versions of the software can be found on the official website of SWZ.
Next-generation advances:
New intuitive user interface

Advanced dual stacked display with configurable datalogger functionality

Toughened glass screen plus optional environmental shield

Setting tool with secured Bluetooth® connection

High reliability, solid-state controls (multi-turn variants)

Reduced internal wiring and connections

Simplified torque sensor (multi-turn variants)

Simple and robust absolute position sensor with high reliability and accuracy

New thrust base design (multi-turn variants)

Separable gearbox/thrust base across the range (multi-turn variants)

Advanced real-time status reporting
Powerful Features:
Three-phase, direct current and single-phase variants
Watertight and hazardous area enclosures
Double-sealing
Handwheels for emergency and ease-of-use operation
Advanced, multilingual display for status and setup
Detailed data logging
Setting and data capture using the supplied iphone through Bluetooth®
Highly intuitive user interface
Comprehensive control and flexibility
Mechanical Updates:
New smooth rim handwheel design
New Hand/Auto lever design
Two stage Hand/Auto engagement
New "cartridge" style thrust base (multi-turn variants)
Optional anti-back drive device (multi-turn variants)
SWZ also provides a wide range of supporting software and documentation.
Field Upgradable from SD